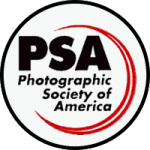 This form allows members to submit images to the Photographic Society of America (PSA) Interclub Competition. For a complete list of submission deadlines visit this page!
General Competition Guidelines:
– No more than two (2) images in any one category round.
– Images must keep with the spirit of the category to be considered.
---
---
**Model Release Required for Portrait Images
The entrant to this PSA activity needs to submit a signed Model Release with his/her entry for any portrait image, including all the recognizable likenesses of a human face, which were not taken in a public location. The entrant and model agree to hold PSA harmless against all claims and liabilities arising out of PSA's publication, display, or other use of any portrait image submitted to PSA. Award images will be posted on the PSA web site and selected images may be published in the PSA Journal/Division Newsletters. Portrait images submitted without a Model Release, if selected for an award, will not be posted on the PSA website or published in the PSA Journal/Division Newsletters. For those who do not have a Model Release, a sample Model Release Form is linked below.
Sample Model Release Form – doc