After all this time and all the updates to Adobe Bridge, it still lags way behind Lightroom Classic for managing and editing your images (it's like we always say – "There's a reason why it's free").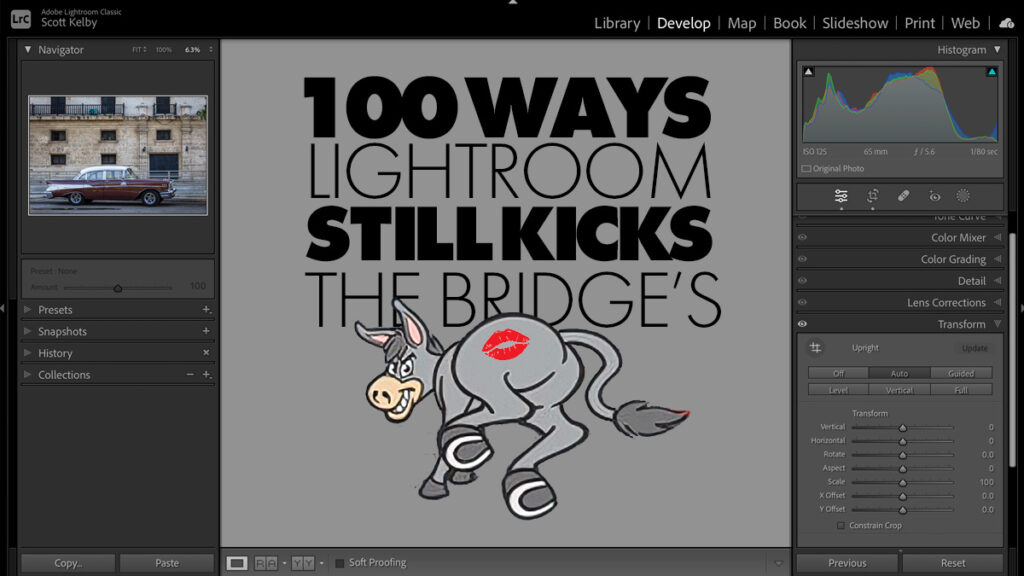 Anyway, here are 100+ reasons why (and I invite you to list even more in the comments). Now, it's entirely possible (read as: likely) that I have a couple in here that somehow you can do in Bridge, but if so, they were so buried I couldn't figure out how to do them, so you could add "it's harder to learn and use than Lightroom" to the list, but I didn't include that one.
That being said, here we go:
There is no "mobile" version of The Bridge for editing or organizing images on your phone or tablet (it's only available on the desktop).
Lightroom has a built-in tethering feature (which has been massively improved in the past few years – now it's fast and really solid).
The Bridge is still slow. Sometimes painfully slow to display thumbnails, and you don't get the different options for how you want to display your thumbnails on import like you do in Lightroom.
When you're in the Bride's (or even Photoshop's) Camera Raw, you can only work on the images you currently have selected. To select other images, you must quit, navigate to those images, and reopen Camera Raw with those images. Lightroom always has your Collections one click away without leaving the Develop module.
Lightroom has Survey mode to help you compare multiple similar images.
The Bridge doesn't allow you to create Virtual Copies for experimentation
The Bridge doesn't have anything like Lightroom's 'Compare Mode'
Lightroom Mobile let's me edit from my phone's camera roll without having to go to my desktop.
You can customize the info that appears around your image in Lightroom's thumbnails.
There's no print module in Lightroom or Camera Raw (and Lightroom's is brilliant – way better than even Photoshop's for printing).
The Bridge's import window is very limited compared to Lightroom's
You can't make Import Presets to speed up your workflow in The Bridge.
When you export an image from Camera Raw, you can't assign a Photoshop action to run after export.
Lightroom lets you 'paint' keywords onto images.
Lightroom has a 'Lights Out / Lights Dim' mode to hide the interface (especially good when cropping)
Lightroom has shortcuts for hiding its side panels, and an auto show/hide feature
Lightroom's slideshow feature (while not great) is way more advanced and flexible than Bridge's
Lightroom has a filter bar along the top that's much more powerful than the Bridge's limited filtering
Lightroom's interface is much more customizable.
Lightroom was designed from the ground up for photographers. The Bridge was designed for graphic designers so they could access their images between Adobe Illustrator, InDesign, Photoshop, and other Adobe apps.
You can't see a Histogram of your selected image in Bridge – you have to open that image in Camera Raw to view its histogram.
There is no "Quick Develop" panel you can use to edit images while they're still just thumbnails
The Bridge is still slow displaying thumbnails. Sometimes painfully so, and you don't get the different options for how you want to display your thumbnails on import like you do in Lightroom.
There's no option to eject your memory card after import
Lightroom has a very handy History panel – the Bridge and/or Camera Raw still does not.
You can't apply keywords to images during the import process like you can in Lightroom
You can save Collections as Favorites so they're one click away in Lightroom (can't do that in Bridge)
Lightroom keeps a handy list of the last 10 Collections you've visited for quick access – Bridge doesn't.
Lightroom offers a temporary "Quick Collection," which gives you the option to make that a permanent collection (also not in Bridge)
You can change the size of thumbnails in the Bridge's Preview window (like in Lightroom) or see a large-size preview of any image before importing.
You can't mark images for deletion in the Bridge (you have to open the images in Camera Raw and then make them there).
In Lightroom you can apply Develop Module presets during the import process. Can't do that in Bridge.
You can make custom Photo Books right within Lightroom and send them directly to the print shop from within Lightroom for output and delivery.
Lightroom lets you automatically copy the images you're importing to a second hard drive for instant backup while you import.
You can change the sorting order of imported images right within Lightroom's import window
Lightroom has a number of zoom magnification settings and you can choose which size you want displayed when you double-click on an image.
In Lightroom, you're always just one click away from seeing the last group of images you imported.
In Lightroom's Library module, you can save Filter Presets for searches you do often.
You can customize the top navigation bar and hide any
You can customize Lightroom's name badge and replace it with your own logo for a custom look (nice when you're doing client presentations).
There's a handy toolbar that appears below the image you're editing in Lightroom with options for features you're most likely to use (but not in Camera Raw).
Lightroom has an Auto Advance feature so you can have it automatically move to the next image once you've flagged it.
Lightroom has a Match Exposure feature, which lets choose an image and apply its same exposure settings to multiple other selected images.
Lightroom has a "Previous Button" that applies any edits you made to the previous image (or the last image you clicked on) to the current image.
Lightroom suggests keywords based on recent keywords you've used previously.
There's a Target Collection feature that lets you designate any folder as Home for any image which you click on and press the letter "b."
You can convert images in Lightroom to .DNG right from within Lightroom (in Bridge, you have to either use a separate program called "Adobe DNG Converter" or export the image as a DNG).
There is no Sync feature in Bridge between devices – you have to manually move your images, for example, from your laptop to your desktop.
Lightroom manages your image library even when the hard drive with your images is not connected, thanks to Smart Previews (which the Bridge does not have).
Lightroom offers Keyword Sets for easily applying groups of keywords to selected images.
Lightroom supports GPS data, and you can click on that data and see a satellite image of the exact spot you were standing when you took the image, all within Lightroom itself.
You can create a custom keyword shortcut to apply a keyword to any selected photo.
You can purge unused keywords from your keyword sets to keep your keyword list clean.
Lightroom offers Info Overlays to display important EXIF data right over the corner of your image.
You can apply a custom watermark to your images in Lightroom when exporting, but not in Bridge.
In Lightroom, you can choose other programs and plug-ins to open directly from Lightroom for external editing.
The Bridge doesn't let you use 3rd-party plug-ins like the On1 plug-ins, or Luminar, or DXo, etc.
In Lightroom, you can see each attached drive, how many photos are on each, how much space is left, etc.
In one click, you can see ALL the photos Lightroom is managing for you.
There are more choices of thumbnail badges for info in Lightroom (31 choices vs. just 20 in Bridge).
You can email images directly from within Lightroom.
Lightroom has a spell checker because Lightroom has support for adding type.
You have easy-to-use and highly customizable contact sheets in Lightroom. There's an outdated pretty lame PDF version in Bridge. Emphasis on "lame."
Lightroom offers speedy draft mode printing for printing documents with multiple images.
You can add a border to your images in Lightroom but not in Bridge.
You can add background music and a narration audio track to your Lightroom slideshow.
You can export your slides as HD video.
You can add intro and outdo title slides to your slideshows in Lightroom
Lightroom has a "Reference View" feature that lets you easily compare a reference photo to the photo you're editing
Lightroom has built-in and customizable multiple-monitor support.
In Lightroom's Navigator panel, you can get a live preview of your White Balance when using the White Balance selector tool.
Lightroom's Detail panel has a zoomed-in preview window right within the panel (Camera Raw does not).
Lightroom's Masking Brush comes with a built-in set of Previews (the Bridge does not).
You can change the color of the background behind your photo in the Print Module.
Lightroom offers two versions of the Masking Brush: an "A" brush (with its own settings), and a separate "B" brush, along with an Eraser Brush. The Bridge only offers 1 brush, and the Erase Brush.
Lightroom's Crop Tool has an "Auto Crop" feature in the Crop panel.
Lightroom automatically applies your GPS-tagged images to a world map based on where they were taken.
With Lightroom, any collections you sync are now available on the Web (at lightroom.adobe.com).
Lightroom has a built-in client-proofing feature, which Bridge does not.
In Lightroom, you can add Pick Flags, show unflagged images only, and sort by Pick Flags. Not in Bridge (only star ratings and color labels, and Lightroom has both of those, too).
In Lightroom, you can search across your entire photo library at once – in Bridge you have to search on a folder-by-folder basis.
Lightroom lets you easily back up your catalog with all the edits, keywords, cropping, etc., you've done to your images. By default, Lightroom stores all these edits right in the catalog itself, whereas Bridge saves edits in a separate .xmp file. Without that .xmp file, all your edits are gone.
Lightroom has a huge worldwide community of people teaching Lightroom, including a bazillion YouTube videos, lots of Websites, and resources like Lightroom Killer Tips. The Bridge? Ummmmm. Well, not so much – there's not that much out there in the way of Bridge education.
Lightroom has built-in Soft Proofing for print. The bridge does not.
You can sort your images in Lightroom using a built-in facial recognition system that recognizes different people in your catalog and groups them together.
In Lightroom, if you apply a color label you can choose to add that color as a tint over your entire thumbnail background for quicker identification.
In Lightroom, you can change the shade of gray that appears behind your image when editing.
In Bridge, if you drag images into a collection from a connected hard drive and you unmount the hard drive, the images in that collection are no longer visible, unlike in Lightroom where they would not only be visible, but if you made Smart Previews, they'd also even be editable.
You can create multi-photo layouts and save them as JPEGs from within Lightroom.
There are no Collection Sets in the Bridge's collection feature.
No Video editing features (lightroom has quite a bit), extracting still frames, etc.
Ability to create short videos with stills and video clips and background music with transitions.
The ability to share an image gallery online with anyone.
No "Publish Services' that lets you upload directly to select service providers.
You can add Color Labels to collections in Lightroom but not in Bridge.
Lightroom has a search field for collections – there's no way to search for a collection in Bridge.
In Lightroom, you can create Metadata templates in the Import dialog – in Bridge, you cannot, so you'd have to exit the Import dialog, create one outside of it, and then return to Import to apply the template. It's just clunkier.
There's no Loupe view in Bridge and no way to do selective zoom (to zoom right in on an area) like there is in Lightroom.
Lightroom's 'Auto-Stack by Time" feature doesn't exist in Bridge
When you share Lightroom images in an online gallery, people viewing your images can leave feedback that appears within Lightroom itself – that can't happen with Bridge.
Bonus feature: in Lightroom, you can "mirror" an image, so the image looks to the viewer as they would see it in a mirror – can't do that in Bridge.
Another bonus LR feature: You can't search presets by name in Bridge but you can in Lightroom.
OK, well, there ya go. As I mentioned earlier, there could be a couple of features listed above that are actually available in Bridge or Camera Raw, which is why I added a few extra features past 100 – kind of a "just in case." Also, I'll update or remove any on this list if I learn they're doable in Bridge.
I know I probably missed some features that aren't in Bridge, so if you add them down in the comments, I'll add them to the list above.
Have a great weekend, everybody. #RollTide and #GoBucs.
-Scott
The post 100 Reasons Why Lightroom Still Kicks The Bridge's A$#! appeared first on Lightroom Killer Tips.