It is no secret that Photoshop is an incredibly powerful image editing tool for all kinds of photographers. However, if you aren't an expert Photoshop user, you may find the program difficult to use and lacking in easy-to-apply effects to make your photos look better in just a few simple clicks.
If you've browsed the internet lately, you've probably seen various Photoshop plugins meant to be launched directly from Photoshop to achieve specific effects on your images. Different plugins exist for different things, from editing your portraits, fixing noise, or even using AI technology to replace your skies. Knowing which Photoshop plugins will offer you the best value to improve your photo editing workflow is hard.
One of the best photo effects plugins for Photoshop on the market today is ON1 Effects. This photo effects software is simply the best when it comes to ease of use, and ON1 Effects combines a simple yet effective interface with powerful effects to help shape your photo edit and make every shot portfolio worthy. Here are some of the best features of ON1 Effects: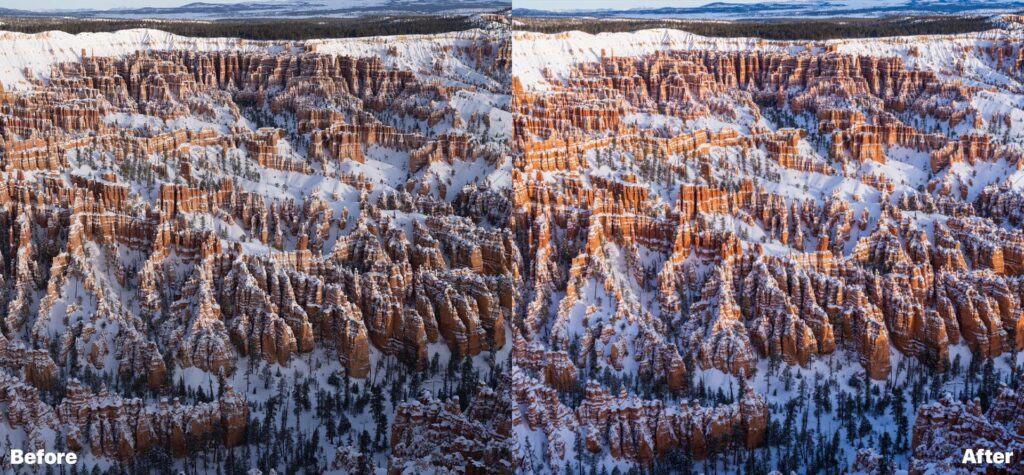 Before and after using ON1 Effects to enhance this photo.
31+ Photo Effects
ON1 Effects is loaded with photo effects of all kinds. Whether you want to add a vintage film look to your photos or make a simple color adjustment, ON1 has an effect for that. Even for new users, finding the effect you are looking for with the search bar is very easy. Best of all (for new users), hovering over the effect with your mouse will give you a short paragraph telling you what the effect does, as well as an example image showing you what you can do with the effect.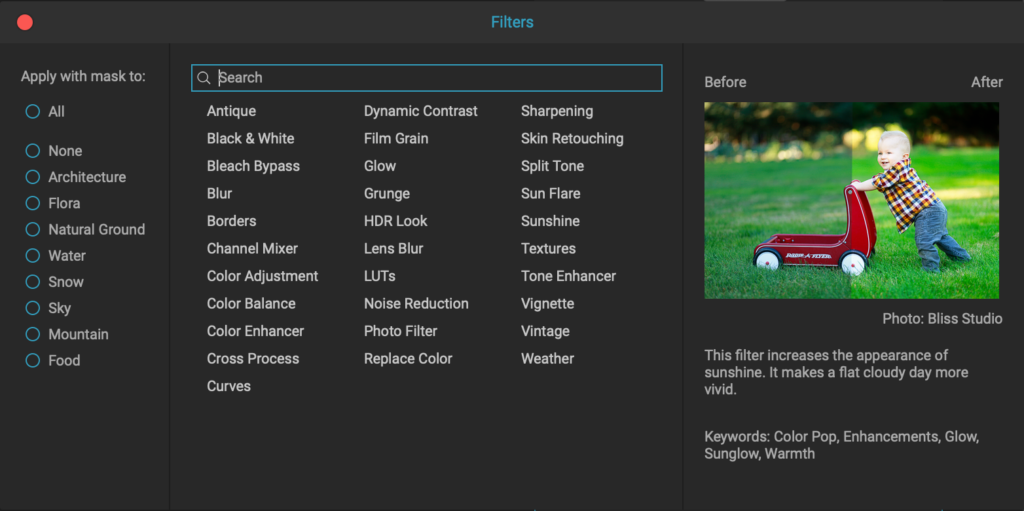 More than 30 photo effects are included. The search bar makes it easy to find the effect you are looking for.
Achieve Photo Effects That Aren't Available in Photoshop
Photoshop is certainly lacking in photo editing effects, especially ones that are easy to apply. Applying a simple glow to your photos takes numerous layers and a knowledge of blend modes. In ON1 Effects, you have many options to apply different effects with one simple click. Once the photo effect is applied, you can easily adjust the sliders to fine-tune the results to your image.
Best of all, ON1 Effects is far easier to use than Photoshop. Even if you can create a unique effect in Photoshop, it is usually far easier to apply in ON1 Effects. Since each effect is named in a way that makes sense, you don't have to spend your time on YouTube trying to figure out how to make a special filter to create your desired effect in Photoshop.
Mask Your Photo Effect
Once you've selected and applied a photo effect, it can be easily masked in ON1 Effects. While Photoshop offers tools for masking, they aren't easy to use or understand without advanced knowledge. In ON1, it is as simple as clicking the mask button and then selecting a brush to paint on the mask with or using "Lumen" to make luminosity masks. Using luminosity masks has never been easier, and they'll allow you the most precise mask on your photo based on the lightness values of each part of the image.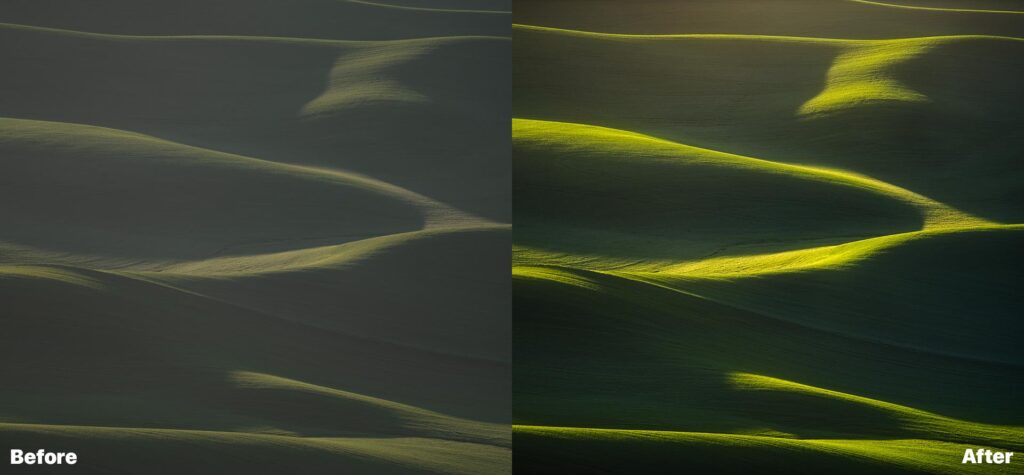 Before and after using ON1 Effects. Just 6 total effects were used to make this image.
Complete Built-In Library of Effects, Presets, and Instant Previews
If you want a quick and easy edit, ON1 Effects has tons of preset effects you can choose from for nearly any kind of photography. Some of the presets are even AI-based, where the software will automatically apply effects and use masking to make your photo look amazing — in just one click.
If you're batch editing multiple photos and want to apply the same effects repeatedly, creating a preset to reuse numerous times is easy. Lastly, you can favorite specific presets to find them easier each time you launch the program.
Advanced Features
ON1 Effects isn't just for the amateur photographer. This photo effects software contains many advanced features that pros and amateurs alike will love to use. In addition to the easy luminosity masking mentioned above, ON1 Effects includes blend modes, color range masking, and various selection tools to ensure that the desired effect is only applied where you want it. While these advanced features are all offered in Photoshop, using them in ON1 Effects is far easier and faster.
Use with Photoshop Smart Objects for Non-Destructive Edits
If you make your photo layer a smart object in Photoshop, you can launch ON1 Effects as a smart filter. Essentially, this means that you can make non-destructive edits to your photos. At any point in time during your edit, click on the smart filter to re-launch ON1 Effects to make adjustments to your photo effects.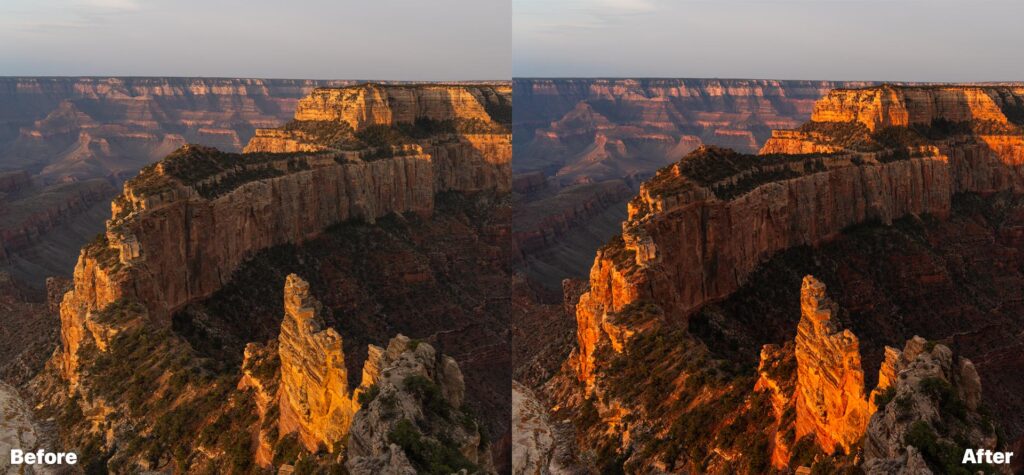 Using the "Desert Glow" Preset to enhance this photo in just a few clicks.
Regardless of your skill level or experience in photo retouching software, ON1 Effects is a photo effects plugin you absolutely must add to your digital workspace. If you're a novice or intermediate photo editor, you'll love having ON1 Effects to apply beautiful filters to your photo and then continue editing in Photoshop. Since the plugin is so easy to use, it takes little to no time to learn how to apply some of the many great effects to your photos. For professional photographers, this is just one more tool to add to your kit that can easily be launched anytime during your edit. ON1 Effects is just one more thing you can add to your workflow, and best of all, you can use it to apply non-destructive effects to your photos. No matter your skill level, ON1 Effects truly is a photo effects software that every Photoshop user should own.
The post The Best Photo Effects Software Plugin for Photoshop appeared first on Lightroom Killer Tips.