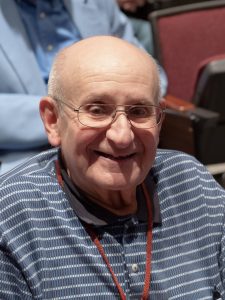 Max Tiller. born on August 28, 1928, passed away Monday morning, October 4, 2021, of a broken heart, from the loss of his wife of 67 years Sally, almost one year ago.

Max was born in Tarrytown, the only child of the late Samuel and Anna Ergang Tiller.  The family moved to Albany when Samuel joined his brother-in-law LeRoy Seftel as a partner in Albany Window Cleaning Company.  Max graduated from Albany High School and the School of Modern Photography, New York City.  Max began his photographic career with General Electric's Malta Test Station.  For 15 years he was the owner of Tiller's Liquor Store in Albany.  He returned to his love of photography as a photographer at Hudson Valley Community College and finally as a medical photographer at St. Peter's Hospital, retiring in 1990.

Max loved spending time photographing family and enjoyed his years traveling in his RV.  Max will be remembered by family and friends as a great teller of jokes — he could light up a room.
Max is survived by his children, Susan Tiller (Jay Seth Levenson), Jeffrey Tiller (Paula Burcher) and Larry (Stephanie) Tiller, grandchildren Amanda Levenson and Lincoln Tiller, brother-in-laws William (Sheila) and Robert (Paula) Schwartz as well as many devoted nieces, nephews, and cousins.

Max was a member and past president of Schenectady Photographic Society and recipient of the Photo Society's Lifetime Achievement Award.
Burial will be in the Independent Benevolent Society Cemetery, Fuller Road, Wednesday, October 6th at 1 pm.

In lieu of flowers, those wishing to remember Max in a special way may make a memorial contribution to Congregation Gates of Heaven, 852 Ashmore Ave. Schenectady, NY, 12309 or Daughters of Sarah Jewish Foundation, 180 Washington Avenue Extension, Albany, NY 12203.