Now that Lightroom's Split Toning panel is gone and has been replaced by a more robust Color Grading panel, how do you create a simple Split Tone (like we used to do)? Here's how: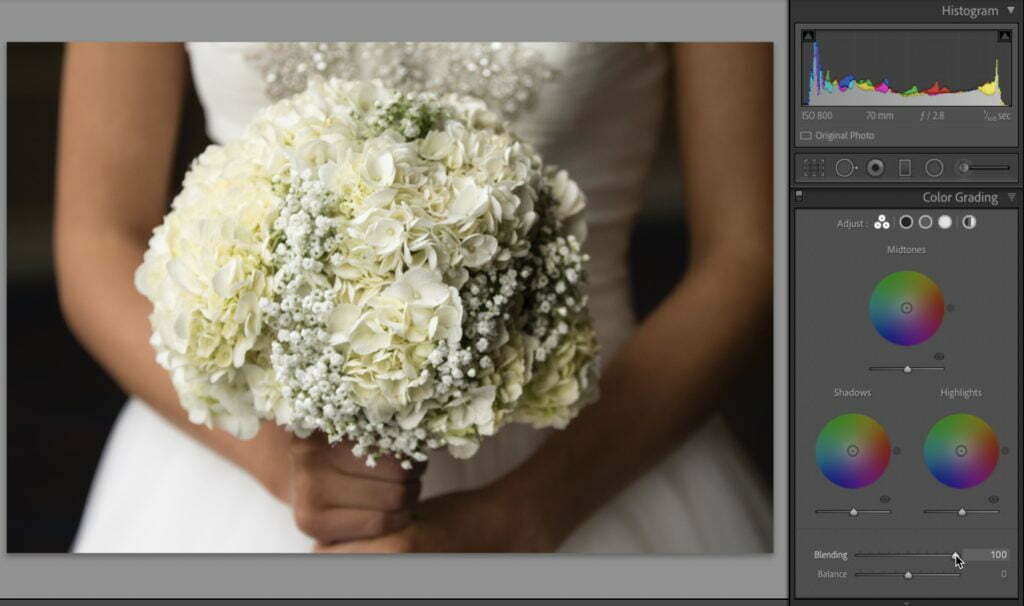 STEP ONE: In the Color Grading Panel, right near the bottom of the panel drag the 'Blending' slider all the way to the right (to 100) as shown above>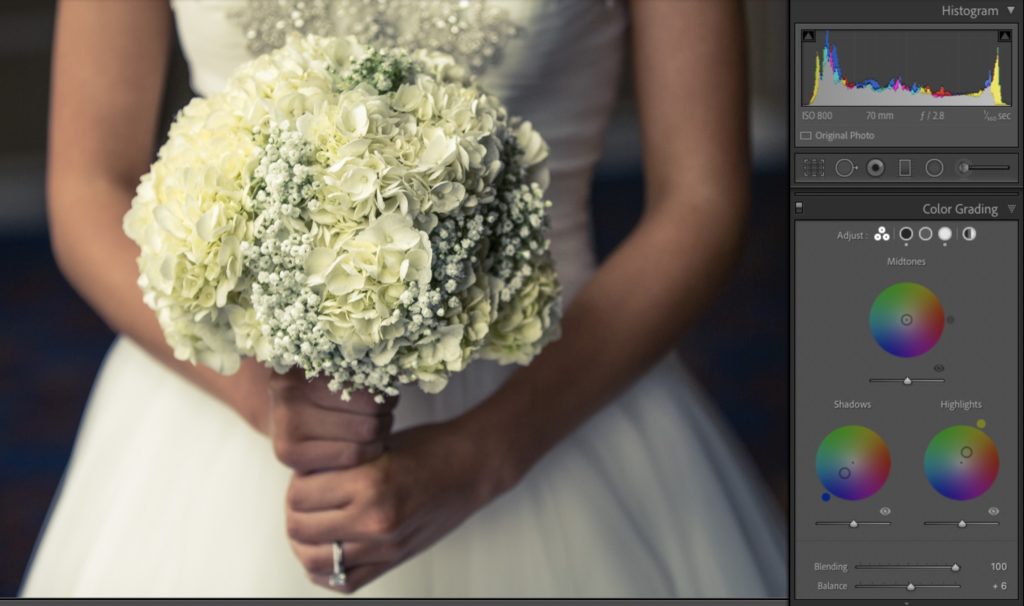 STEP TWO: To get the same split tone look you used to get, just tweak the Shadows and Highlight color wheels (the bottom two), and just ignore the Midtones color wheel at the top of the panel.
For example, let's start with the Shadows. Click and drag the circle in center of the Shadows color wheel and drag it toward the color you want to use in your shadow areas (in this case, towards blue). The farther your drag that circle toward the edge of the circle, the more saturated the color will become, so if you want a lighter blue, don't drag the center circle as far toward the edge. For the Highlights — same thing.
Note: What's nice about dragging that dot in the center of the color wheel is that you can control the Hue (color) you're choosing and the Saturation of that color all with just that one dot. However, once you drag it, you'll see another dot along the outside edge of the color wheel which allows you to keep Hue and Saturation controls separate (like they were in the old Split Toning panel). Now, to move the Hue, you can use the outside dot. To control the Saturation amount, drag the inside dot.
I know Rob covered this stuff in the past week fews in his excellent series on Color Grading, but I wanted to pull out this one specific part and focus on it for anyone who needs it. Hope you found it helpful.
Next Week It's "The Flash Photography Conference"

Don't miss out — photographers everywhere are signing up to be a part of this epic two-day, two-track live event next Tuesday/Wednesday featuring the King of Flash, Joe McNally. Details and tickets here.
Here's wishing you a fantastic week, and good health throughout. #rolltide!
-Scott
P.S. If you missed Terry's excellent video here last Friday on "Which Lightroom is right for you — Cloud or Classic?" here's a link. Really great info.
The post How To Do Regular Ol' Split Toning In Lightroom's New Color Grading Panel appeared first on Lightroom Killer Tips.